Atlantic Avenue Orchid & Garden Center, Raleigh, NC
atlanticavenuegarden.com
Atlantic Avenue Orchid & Garden Center was concerned about their build up of used nursery containers. The used containers are now taken back by Plantworks Nursery. Plantworks Nursery will take back used containers from their own customers. Atlantic Avenue Orchid & Garden Center is now offering a takeback program of used nursery containers from their customers.
B.B. Barns: The Garden, Gift, Landscape Company, Arden, NC
bbbarns.com
In the spring of 2014, B. B. Barns offered to collect nursery containers from their customers and neighbors at their garden market in Arden, NC. The Saturday collections started in May and ran to the end of June. B.B. Barns collected, sorted and loaded over two tons of material which was then recycled by Verity Recycling in Forest City.
Cyndi Lauderdale (Wilson County Agriculture Extension agent) wanted to help BFN reduce their tipping fees at the Wilson County landfill. DEACS and WRP visited Berry Farms and helped them recycle 54 tons of nursery containers. BFN had planned to reuse many of the flats but then realized they had saved many more than they could ever reuse. Many pots were unusable by Berry Farms due to outdated logos on them. Fortunately, many of them were still nested and stacked on pallets. Verity Recycling sent box trucks on a weekly basis for Berry Farms staff to load. Verity Recycling also took their sweat film from their roses and overwintering films. These materials generated between 10-15 cents/pound and Berry Farms also saved $2,268 in disposal fees. Berry Farms now has more space and their work force is happier and more efficient.
WRP is now helping Berry Farms find them a recycling solution for their Reemay, a spun-bonded polyester plant covering.
Dave Elliot of BB Hobbs wanted to help their customers recycle used drip tape and black mulch film. He contacted WRP and asked WRP to visit Burch Farms to help find a solution. Mr. Burch had separated some of his drip tape from the black mulch film as he pulled it up in the fall, some he had not separated. Burch Farms recycled 40 tons of drip tape alone with Recycling Management Resources, Raleigh and 45 tons of drip tape plus black mulch film with AEIPlus. Mr. Burch baled it using an old tobacco baler and AEIPlus collected it from his farm.
Tom LeJeune and Ray Watson of Cam Too Nursery in Greensboro have been recycling LDPE overwintering film for many years. Each year they buy 200 rolls of overwintering film (4 mm), custom cut by the manufacturer to the size of each cold frame at no additional cost, thus reducing their waste at source. It takes them about a month to get the film off the houses; they roll it up and immediately put it onto one of their trucks. Spring 2013, they hauled 13,590 pounds of the film to Susan Newman of New Life Plastics, Burlington, to recycle the film. Tom says it gives him peace of mind to get the film off the nursery (when it is still relatively clean) so it cannot be blown around and make it more difficult to collect. Cam Too received enough revenue to recover the costs of recycling the film and saved on landfill charges, too. Spring 2014, Tom called Susan Newman again and all his overwintering film was recycled.
Chris Van Goethem Landshaping, Durham, NC
cvglandshaping.com
Chris Van Goethem had a build up of yard waste to be cleared out this winter. He could take back his used nursery containers to Plantworks Nursery, Rougemont. WRP assisted him in finding solutions for other items such as metal, wood, pallets, tires, aluminum carports.
William Westbrook's son, Mathew, is an engineering student at NCSU and recently visited Australia as part of a class. When he came back, he told his dad, "You got to get all those old pots recycled like they do in Australia. The plastics that they are made of can be shredded and remolded into new useful materials like trash bags or even new pots." William thought this was a great idea but didn't know how to do it. He knew Wilson County's solid waste facility was a few miles away from his nursery and wondered why they did not recycle the plastics there. William had received a flyer about agricultural plastics recycling at the Green & Growin' Show and decided to make some phone calls. Eventually he found Chris Pulley at K & K Recycling in Wilson and loaded up the pots that he could no longer use and took them there himself. He has now built up a relationship with K & K recycling and they take all his cardboard, fertilizer bags, overwintering film and old pots. He receives a ticket each time he goes and receives some payment. He also saves on tipping disposal fees.
Hefner's Nursery, Conover, NC
Mark Gantt of Hefner's Nursery was one of the earlier recyclers of plastic greenhouse films in North Carolina. The nursery has 25 greenhouses, each with approximately 120-150 pounds of 4 mm overwintering film. They use zip strips to secure the film to the house to avoid the use of staples, which can be problematic to the plastic grinding blades of recyclers. In Catawba County, they normally take down their greenhouse overwintering film during the second or third week of April. They remove the dirtiest part of the film, lay the clean section of film on the ground, and roll it up. The rolls of film are stored in a covered shed for a year just in case they have damage to the next season's film and need a section replaced. When they know the film is no longer needed, they haul it to Commercial Plastics Recycling just down the road in Newton. Hefner's does not get paid for the material, but does avoid landfill fees.
Hawksridge Farms, Hickory, NC
Hawksridge Farms have been recycling overwintering film from their 220 hoophouses for the past 8 years. Rick Crowder says "It has been just as easy for them to recycle their films as it would be to landfill it. We would have to roll it up to take it to the landfill, so we are glad we can roll it up and recycle it instead. We prefer that." Hawksridge is able to take their used overwintering film to nearby Commercial Plastics Recycling, Newton Commercial Plastics Recycling. Recycling allows them the opportunity to avoid land-filling fees.
Homewood Nursery and Garden Center, Raleigh. NC
homewoodnursery.com
Homewood Nursery and Garden Center arranged for Plantworks Nursery, Rougemont to backhaul their overwintering film and pots to Plantworks after the plants had been delivered. They hauled their overwintering film to Johnson Nursery, Willard where Johnson Nursery baled it and added it to their load to get a full load for recycling. They now have a container from Republic to recycle their cardboard, bottles, cans and paper. Homewood Nursery and Garden Center are planning on starting a take back program of used pots from their customers this spring!
Johnson Nursery sent nursery pots and ag film to Steve Wasserman of Cindarn Packaging, 410-848-7558. We shipped a full trailer to Eastern Recycling, 5107 North Point Blvd, Sparrows Point, MD, 21219.
This year Johnson Nursery used Chersten Cohn, Waste & Recycling Solutions, 919-500-6474. Chersten arranged for a container to be dropped at their location for them to load their ag film and then it was picked up after they loaded it that same day. The pots were loaded on a trailer that and taken to Verity Recycling, Asheboro, NC.
Scott Linke contacted WRP to ask for assistance recyling Reemay. Scott Linke sent WRP samples and WRP is contacting new recyclers to try to find a solution for this material. If a solution is found it will be posted on ncagplastics.org.
Johnston County Nursery Association
jocoplants.com
Ruth Currin Holcomb, President of the Johnston County Nursery Association, and Amie Newsome, Johnston County agricultural extension agent, have persevered to enable members of JCNMA to recycle their used nursery containers. JCNMA visited Verity Recycling to discuss their needs with Marty Danco. JCNMA "wanted a system that was easy and did not cost anything." When they came back, Alan Erwin of Panther Creek Nursery, Willow Spring offered his nursery as a collection site for JCNMA pots and flats and continued the discussion with Marty Danco on the logistics. This summer, they had a training event. Richard Currin loaded his dumptruck using a skid steer, dumped them in front of a box truck. Panther Creek staff then "shmooshed" them into the box truck to increase the weight on the truck ready to be hauled to Verity Recycling. Despite the cool summer when plants were growing well, some members of the association still found time to deliver their used pots to Panther Creek for recycling. Ruth Currin Holcomb says, "The trial was a success, they sent 5.6 tons for recycling and were paid five cents/pound by Verity which covered most of their costs, which was their goal. They will host another trailer in the near future." JCNMA has also saved $235 in landfill charges. Come on members of JCNMA – call and arrange to bring in your old pots!
Farrell Moose of Mellow Marsh Farm, Siler City has been working with Waste Reduction Partners recently to develop strategies for recycling their nursery containers. Farrell and Sharon Day recently delivered one trailer of loose pots, unsorted by plastic type (1,400 pounds) to a Verity Recycling, Asheboro. Farrell, Sharon and Joanie McLean are now developing a system to stack their pots more densely on pallets to make haulage easier and cheaper. They aim to get together with fellow nurserymen nearby to recycle three to four times as much in their next load.
Metrolina Greenhouses in Huntersville has been working with several box stores in North Carolina to recycle used nursery containers. Metrolina backhauls the nursery containers after they have shipped new plants to the store. In Huntersville, Metrolina staff prepare the nursery containers so that they meet the specifications of their recycler, Verity Recycling. Then Metrolina loads them (loose, and unsorted by plastic type) into trailers and transports the trailers to Verity. Verity sorts the material, shreds, cleans and processes the nursery containers into resin that is used in the manufacturing of new nursery containers and other new plastic products. The tonnage of nursery containers collected through this program has increased by 25% each year, and Metrolina Greenhouses is now recycling 1.8 million pounds of plastic each year.
Mitchell's Nursery trys to reuse as many pots and flats as they can. They offer their overwintering film from their hoophouses to local farmers who can use it when they cover their round bales of hay.
NC Zoo, Asheboro, NC
nczoo.org
North Carolina Zoo made contact with DEACS at the Carolina Recycling Association Trade Show. They have managed to recycle 1,500 pounds of used nursery containers by loading them up themselves and driving them to Verity Recycling, Asheboro. The North Carolina Zoo is now trying to become a Zero Waste Facility with the guidance of Environmental Stewardship Initiative, DEACS and WRP.
Nelson's Nursery pulls their overwintering film off a little earlier than others in the area. After they pull it off, they pull it over to the grass, roll it up and secure the bundles with baling twine. Brian Nelson loaded up the overwintering film on his truck and drove it to Commercial Plastics Recycling, Newton. No payment was received for the plastic but they avoided paying the tipping fees.
New Garden Nursery, Greensboro, NC
newgarden.com
Verity Recycling and New Garden Nursery found each other about a year ago. Marty Danco of Verity Recycling visited New Garden Nursery, and they came up with a plan to recycle together. After the first load, it was determined Verity could not pay for the trailer rental and the hauls as the material would not cover the expense. New Garden decided that recycling was the thing to do and wanted to keep the program going with a spotted trailer at their place. They agreed to pay for the rental and the hauls back to Verity. New Garden sent about four to five trailerloads per year of all their plastic waste, film, pots, trays, etc. Good for Verity and good for New Garden. New Garden notifies Verity when the trailer is full and Verity arranges trucking. No monies trade hands. New Garden is very keen to recycle and do the right thing.
New Leaf Garden Market, Pisgah Forest, NC
Thanks to the recycling program offered by their supplier, Plantworks Nursery (Rougemont, NC) New Leaf Garden Market (Pisgah Forest, NC) is able to accept empty, plastic pots and trays back from their customers for recycling. Since plant pots and trays are not accepted in most curbside recycling programs, this is a great benefit to customers of the garden market who are also avid recyclers.
New Leaf Garden Market's recycling program has been effectively working for more than one year now. Plantworks Nursery has been very accommodating when they have pots to send back, even re-arranging their route to be able to fit the pots on their truck. The pots and trays are ultimately recycled by companies that specialize in recycling agricultural plastics, and whose equipment can tolerate small amounts of the residual dirt that can be associated with nursery plastics.
Painters Greenhouse, Old Fort, NC
This 40-year old nursery grows 1,000 different varieties of plants, many of which are indiginous to North Carolina. They are active recyclers who share their overwintering film with their neighbors for secondary uses as well as offering their excess used pots to anyone who is interested.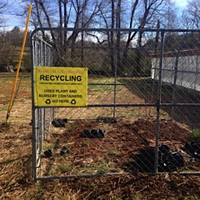 Pender Nursery works toward resusing their nursery containers whenever possible. However, inevitably there are containers that do not meet their standards. This creates a question of what to do with the containers that would have the least negative impact to our environment.
This led to the cooperation between Ariel Montanez, General Manager of Pender Nursery, located in Garner, North Carolina and Marty Danco of Verity Recycling, located in Asheboro, North Carolina. Together they created a plan that benefited each organization's goal of protecting our environment. Each provided the needed support to stack, wrap and palletize the containers. This partnership has resulted in preventing more than 25.5 tons of recylable material from being added to our landfills. Instead, some of this material will be recycled and used to produce new containers.
Piedmont Carolina nursery did not have a full truck load of overwintering film so they got together with their colleagues, Plantworks Nursery. They sent all their overwintering film from their hoophouses to Verity Recycling, Asheboro. Now they are sorting, stacking and wrapping their used nursery containers on pallets and sending them to Verity Recycling, Asheboro. They are able to combine bundles of overwintering film with their pots to get a full load.
Dana Massey of Plantworks Nursery, Rougemont was determined to recycle their plastic materials. Dana started by clearing an area in the woods, removing old pallets and scrap metal in order to have space to sort and store recyclable materials. (The revenue from recycling the scrap materials has paid for the labor costs of preparing the recycling site.) Containers were sorted by plastic type (#2 HDPE, #5 PP, #6 PS) and stacked as densely as possible on pallets, then shrink-wrapped, to minimize haulage costs. The nursery containers were collected by Meyer Lawn & Garden Group (ITML) and taken to Ohio to be turned into new pots. Waste Reduction Partners introduced Dana to North Carolina recyclers and now she recycles with Verity Recycling, Asheboro, and they have a more cost-effective recycling program at Plantworks. Plantworks is aware it is difficult to recycle less than truckload quantities of nursery containers so they are offering a take-back program for their customers. They list details of this service on their web site.
Poverty Hill Nursery, Southern Pines, NC
Pete Dowd bought a 140 acre nursery that had gone out of business. The nursery still had all the discarded agricultural plastics on it. Pete is currently working with Waste Reduction Partners to get all the material recycled with Verity Recycling. Already 15 tons of pots and flats have been recycled with Verity Recycling. Pete took another 2.5 tons of pots with staples on them to Verity but this required additional work to recycle them so Pete was paid a lower price for them. Pete received a total payment of $2,600 and saved $735 in tipping fees. WRP is working with Poverty Hill Nursery to find solutions for the remaining, more challenging, discarded agricultural plastics. There are several layers of plastic and piping in the ground and pots with soil and plants in them. Waste to Energy solutions are being considered, however the BTU value might not be of significant value to make it a more cost-effective option than taking them to the landfill. Potentially the value of the land after the remaining plastics have been removed might increase with time to offset the clearing costs.
Quick Start Liners, Norwood, NC
Rodney Queen trys to reuse pots and flats as much as possible. Over the years he has built up a pile of used nursery containers. He contacted Waste Reduction Partners who is working with him to get the used containers recycled. Quick Start Liners cannot spare their time to sort and stack the pots, but since there are truckload quantities on the ground, Verity Recycling is taking their staff out to sort, stack, wrap and haul to their facility for recycling, instaed of offering payment for the material.
Rainbow Recycling and their partner Leading Green Distribution has collected nursery containers for reuse and recycling at the Black Mountain Garden Show for several years. In 2014, they expanded their efforts to include another nursery container recycling event at Appalachian Creek Nursery, Swannanoa, NC, called the "Lots of Pots Recycling Event." Rainbow Recycling and Leading Green Distribution collected an entire truckload of material from the community, sorted the containers by plastic type, and hauled them to Commercial Plastics Recycling, Newton.
TRi-W Farms, Clinton, NC
Dave Elliot of BB Hobbs wanted to help their customers recycle used drip tape and black mulch film. He contacted WRP and asked WRP to visit Burch Farms to help find a solution. Mr. Wilson of Tri-W Farms recycled 118 tons of drip tape pulled up together with the black mulch film with AEIPlus. Mr. Wilson baled it using an old tobacco baler and AEIPlus collected it from his farm.