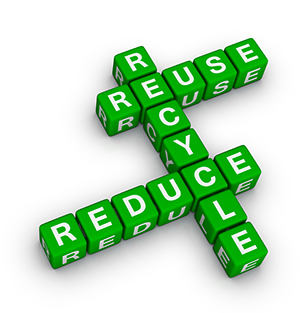 Solid waste reduction assessments are performed to develop techniques to avoid the generation of solid waste and develop methods to recycle or reuse waste products, thereby reducing the amount of material going to landfills. Waste Reduction Partners specialized team surveys the facility to identify the waste reduction opportunities. At the conclusion of the on-site survey, the team evaluates the data and prepares a non-regulatory report that gives the client options and specific recommendations to save money and reduce solid waste.
Waste Stream Audits
Perform waste steam analysis to estimate types and volumes of wastes with the most potential for reduction. Review dumpster contents.
Waste Reduction Policies
Assist management in developing a waste reduction policy statement and establishing program goals. Integrate waste reduction policy in ISO14001 and sustainability initiatives.
Waste Reduction Teams
Define the need and objectives of waste reduction teams. Assist teams to focus on successful waste reduction projects.
Locating Recycling Markets
Help locate viable markets for recyclable materials via brokers and recycling processors.
Marketing Negotiations
Facilitate meetings between company staff and recycling brokers/processors to best address issues of contract services, logistics, quality, and pricing.
By-Product Processing for Recyclability

Research methods to further process by-products so they can be recycled/marketed at their highest value. Collaborate with other technical assistance providers, such as NCSU's Mineral Research Laboratory, to test and develop cost effective processing solutions.
Buy Recycled and Environmentally Preferable Purchasing
Assist purchasing agent to choose products that are environmentally preferable with recycled content.
Tracking and Publicizing Results
Help companies track successful waste reduction projects. Publicize success stories as requested.